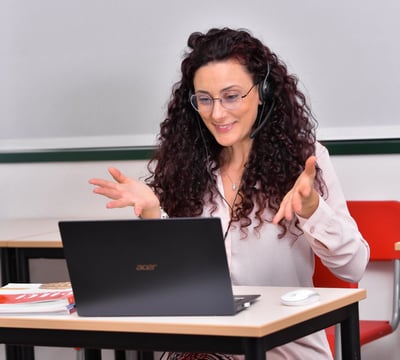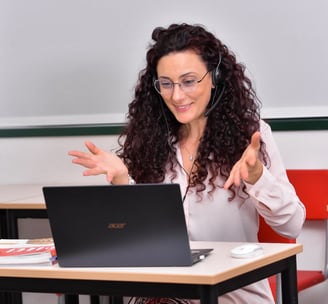 Discover our range of engaging online Italian group courses led by our qualified and experienced teacher, Maria. Whether you're a beginner looking to quickly learn essential Italian for an upcoming move to Italy or seeking to reinforce your existing knowledge, we have the right course for you.
Our courses are designed to cater to different levels and learning goals. If you're unsure about which course is best suited for you, we encourage you to get in touch. Do an online diagnostic test and Maria will provide personalized guidance to help you choose the course that aligns with your needs and objectives.
Join our online Italian group courses today and embark on an exciting language learning journey with Maria.
Choose the perfect course for you
Click on the images below to read more about the different courses we offer.
These courses are for you if you have never learnt Italian or know just a few basic phrases.
Can you survive in simple everyday conversations and want to get a better understanding of the language? Then elementary courses are for you.
You can use elementary level grammar and vocabulary well and want to explore the beauty of Italian further. Sign up for a pre-intermediate course.
Now you want to work on your fluency and gain confidence when dealing with most everyday situations, right? So, intermediate courses are yours to join!
If you can use Italian fairly fluently and want to widen the range of your vocabulary and broaden your knowledge of Italian culture.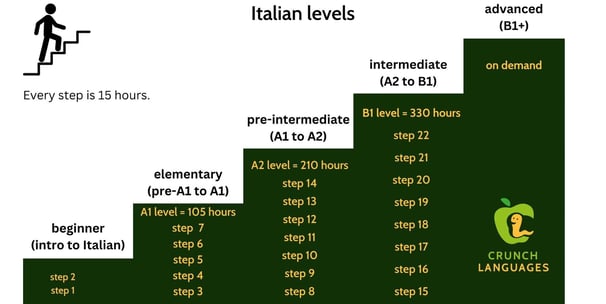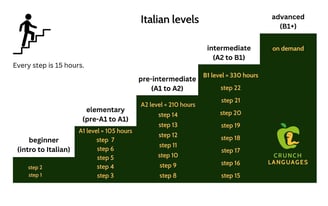 Here's what Maria's students say
"I can fully recommend Maria's lessons. After a year of on and off 1:1 lessons I found Maria's online group lessons perfect.
Maria prepares and puts a lot of effort in her material for the lessons and self learning exercises for your level. She covers absolutely all methods to make Italian stick to your brain combining it with a lot of fun."
- Gesine, Germany (courses from beginner to A2+)
"Perfect for me! A great Italian course with lots of listening and speaking. Maria is really a very authentic course leader and the lessons are very varied. Italian pronunciation is memorized easily. I would recommend the course to anyone who wants to have fun while learning. I'm looking forward to the next course 🤗 !!!."
- Semra, Turkey (courses from A1 to A2 level)
"Learning Italian with Maria is really great. She makes the lessons on Zoom interesting, dynamic and informative. I would recommend lessons with Maria to anyone looking to improve their Italian language skills, especially speaking, and deepen their knowledge of Italian culture."
- Madeleine, England (B1 level course)
"Maria is a very interactive teacher, her material for each lesson is interesting and engaging. She tries her best to get all students involved in the dialogue and never forgets to ask about your day. She makes me want to speak more italian!"
- Estee, Singapore (courses from A2 to B1 levels)
Click on the icons to read our Facebook and Google reviews